Christy Gammel promoted to Marketing Supervisor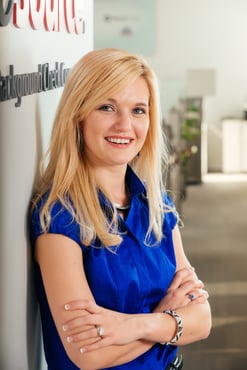 One Source The Background Check Company is proud to announce the promotion of Christy Gammel to Marketing Supervisor. In her new role, she will be supporting the Marketing team in maintaining the marketing strategy for One Source in accordance with business objectives.
Felica Hazuka, CEO states, "We are excited to see Christy continue to grow and develop at One Source; not only as a marketing professional but as a leader. Her professionalism, high level of accountability, and passion for our business shows in her daily interactions. Christy strives for excellence and has really stepped up to the plate to support the entire Marketing Department for quite some time."
Christy joined One Source in August of 2014 and moved to the role of PR & Events Coordinator in 2015. Christy has been the point person for the Marketing Department since December of 2016 and recently completed One Source's Leadership Development training program.
"I am so excited for this opportunity. One Source operates by their mission which is "reliable and compliant results driven by highly accountable team members delivering the TotalCheck Experience." I am thrilled to be part of a company that thrives by living out our mission and goals. Watching the Marketing Team collaborate and being able to work with them is a great experience. I am looking forward to watching and helping the Marketing Team grow in their roles." States Christy Gammel, Marketing Supervisor.